NICE!!! CLICK ON OUR NEW BACKGROUND MUSIC FEATURE
OUR NEW SUP SPORTS® ECOMMERCE SUP STORE IS NOW LIVE! (click)
Be sure to check out our BLOG for the latest standup paddle surfing news...
We have scores of SUP boards, paddles, fins, and other SUP accessories in stock...
You can purchase our SUP products online in our SUP store. Click image below for an overview of our beautifully refined boutique wood SUP board line...by far, best bang for the buck SUP on the market...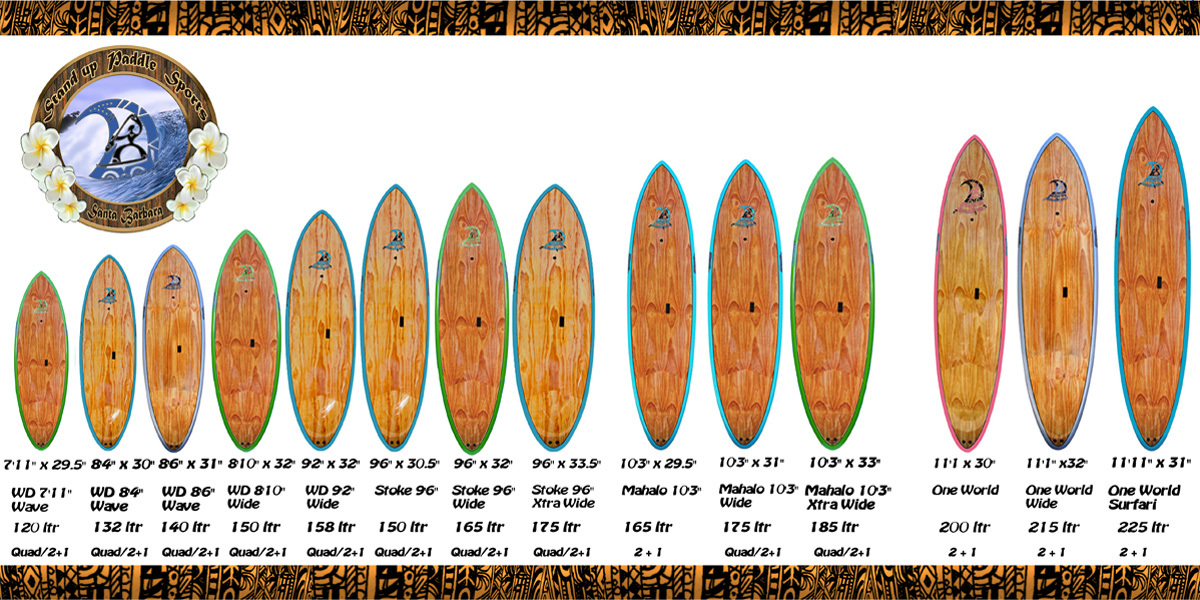 Our carbon finish colors...

We've been so slammed with custom Hammer orders that we have had to initiate a run of production carbon Hammers to help satisfy demand of these carbon sup boards...not bad problemos to have...;-)
These are all in full SUPerlite carbon construction...Maui Blue...Seafoam...and, Green Apple...with, brushed white decks and dual pin lines...should have them in a couple of weeks...they will go fast, as a number of them have already been secured with a deposit...

A few of the custom Hammer models that we have built...all made in the USA...



Our showroom always has racks and racks of boards to choose from...
YOU DON'T JUST HAVE TO TAKE OUR WORD FOR IT...CLICK TO READ OUR CUSTOMER TESTIMONIALS FROM OVER A DECADE OF PROVIDING GREAT SERVICE AND PRODUCTS...
A Santa Barbara Standup Afternoon.
A Glassy California Standup Morning.



Another Santa Barbara Standup Paddling Day.



Naish team rider, Dave Kalama, on standup paddle surfing:

"I really like the fact that I'm learning and there's still a lot to learn about it.
It makes mediocre surf really fun again and it gives you that excitement and that enthusiasm to keep you driven to go out
and play in the surf every day which keeps you healthy and keeps your attitude right and keeps life good."

Click here for even more stand up paddle surfing content...


Big Winter Swell Lights Santa Barbara Point Waves Up
(Click image for picture gallery)
Santa Barbara Point Waves
(Click image for picture gallery)
Something very "fishy" is coming soon from Starboard...
Kate Mulloy...Standup Paddle Surfing Pioneer on North Carolina's OBX...
Sara Stands Up and Paddles South Beach in Miami on the SOS "Big Blue"
Droppin' In on a Nice Little Cali South Swell
Santa Barbara's Kids are Standing Up
(Click for photo gallery)
Bill B & KevBo standup paddle surfing in the Baja
Soul Styling on a Standup Paddleboard in Santa Barbara
(Click on image for more pics)
Standing Up in a Gorgeous California Cove

Standup Paddleboarding in Utah
Click for 15mb Video Clip
Chris & Finn standup paddling in the Baja
SurfingSports Embroidered FlexFit Hats Available Now
Visionary Jeff Henderson - Longboard Soul Stylin'
STARBOARD Introduces 2 New Standup Paddle Boards!!!
SHIPPING NOW - CLICK FOR MORE INFO

Click for standup paddle surfing vid clip. (89mb...17:54 min)

Longboard Wavesailing on a SOS Standup Paddleboard


Longboard Wavesailing Goes Off in Santa Barbara

No Wind...No Waves...No Worries...
Looking for something new and challenging...but, also has ancient roots and is soulful?
Try standup paddle surfing...standupping...standup paddling...beach boy surfing...



Click for standupping vid clip. (29mb 5:46 min)

Looking for a small wave/no wind/light air/ alternative...or just want a killer workout?
We're stoked on standup paddle surfing and have all the best gear to get you paddleboarding and/or paddlesurfing.
(Click picture above for info on standup paddling)
Click here for standup paddle surfing picture galleries